" A venture capitalist's lifeline is his connection to the high tech community." Fred M. Haney, Ph.D.
Monday Club was founded in 1984, by Fred M. Haney, Ph.D.
---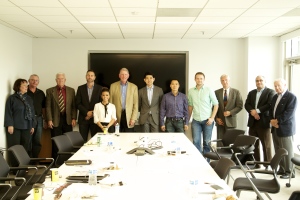 Fred Haney is a venture capital fund manager, private investor and entrepreneur.  He is a co-founder of NovaDigm Therapeutics, Inc. and served as Chairman of the Board.
He was a co-founder of Dynamic Reconfigurable Computing, Inc., San Jose, CA, and PulSentry, Inc., Torrance, CA.  Fred was the founder and manager of 3i Ventures, California, a top-quartile venture capital fund that invested $80 Million in sixty companies.
He has served on the board of directors of thirty private companies and four public companies, including Rainbow Technologies.  He founded Monday Club in 1984, and he was a co-founder, in 1997, of Tech Coast Angels.  Fred received a Ph.D. in Computer Science from Carnegie Mellon University.  He was selected as "Director of the Year for Early Stage Companies" by the Forum for Corporate Directors in 2002, and as "Mentor/Angel of the Year" by the American Electronics Association in 1999.
In 1984, Fred was managing 3i Ventures, one of the largest and most successful venture capital firms in Southern California.  The original idea of Monday Club was to expand 3i Ventures' network of contacts —  for access to investment opportunities and to people who could help build successful businesses.
When Monday Club adopted a monthly format of having two companies present their business plans, interest grew and the membership expanded to over seven hundred people in Orange County, South Bay of Los Angeles (Torrance), and Santa Monica.