The Monday Club Presentation Format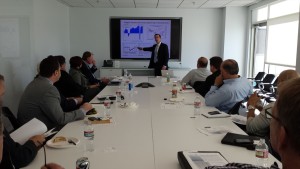 Each of the three Monday Club chapters hosts two 35-minute presentations at its monthly luncheon meeting.  Meetings run from 11:45 a.m. until 1:30 p.m.
Why Do Companies Present?
Presenters receive:
– Professional feedback on their presentation
– An opportunity to network with high-tech company-builders
– Introductions to potential advisers, service providers or directors
– Advice on critical strategic issues
– A one-page written review from each Monday Club member
Written Feedback.   Each member fills out a one-page "feedback" sheet that grades seven important aspects of the presentation.
Additional advice can take the following forms:
– Help with the technology
– Selecting from strategic options
– Fundraising strategy
– Organization and packaging of the presentation
– Introduction to valuable resources
– Assistance with specific issues such as market forecasting, patents, competition.
Selection of Presenters. Companies that want to present to Monday Club submit a PowerPoint presentation by email.  The selection of presenters is based on time-tested investment criteria.  Preference is given to companies that have:
– A well developed business plan presentation
– Topical and educational content in their presentation
– A unique idea
– A strong management team
– A desire for assistance and valuable contacts
– Many companies that present to Monday Club are just beginning their fundraising process.
– There is no charge for presenting to Monday Club.
Format
Presentations are usually given in a PowerPoint format.  Members of Monday Club provide interactive and constructive feedback in a friendly and informal atmosphere.  After the meeting, there is time for one-on-one followup.
Presentations last about 35 minutes, including question and answer time.  The idea is to give presenters helpful feedback, so spontaneous dialogue is encouraged. Most presenters start with a 15-20 minute PowerPoint presentation that addresses the issues that are important to potential investors.
Post-meeting Follow Up
Follow up is on an individual basis.  After the formal meeting, interested members will leave a business card or meet briefly with the presenter.  Subsequent activities have involved introduction to other people who can help, formal introduction to the Tech Coast Angels, introduction to venture capital firms, continuing working relationships, and direct, private investment.